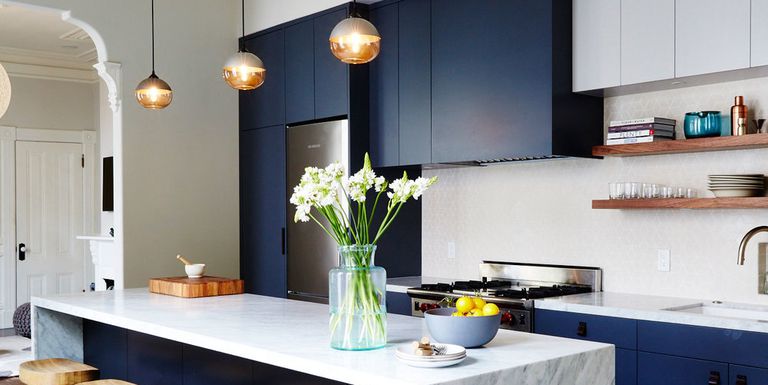 Every year it seems like there are new home trends to take advantage of. That doesn't mean you have to knock down your kitchen. But embracing one or all of these trends will keep your kitchen fresh and modern. If you're planning a kitchen remodel, or just looking for inspiration, here are six of the biggest Honolulu kitchen design trends that are happening in 2019.
1. Bold Colored Cabinets
Interior designers have embraced bold colored cabinetry instead of classic white. An unexpected pop of color makes your kitchen feel fresh and inviting while you're going through kitchen remodeling in Honolulu. It's also the best way to let your personality shine through.

Choose one color and use it on your appliances, cabinets, and walls. This year's popular color choices include light green, matte black, and fire engine red. Mint green has become a favorite among designers. It seems like every homeowner wants a light green kitchen.
Since cabinet color choices are getting bolder, some appliances are taking a dramatic turn. Matte black appliances are growing in popularity. It's a fun way to add contrast to more traditional colors and wood cabinets. Matte black fixtures and hardware can turn a traditional kitchen into a modern one. Even the other trends on this list will pair perfectly with this bold appliance color.

Another huge trend is to use two-tone colors. It may seem unexpected to combine two different cabinet colors, but it's amazing when paired right. For example, pairing marble with blue cabinets, or painted cabinets with wood cabinets, can take your kitchen to a whole new level.
2. Vintage Hardware
Minimalist hardware is on its way out. It's not just your cabinets that are getting bold. Your hardware is going to follow suit. Expect to see a lot more vintage hardware throughout 2019. These new fixtures are chunky in style. Some designs include colorful and funky finishes that pull your entire kitchen together.
3. Natural Elements
To balance the boldness of your kitchen cabinet colors, you'll want to incorporate the use of natural elements. Homeowners are loving combining artwork painted by Mother Nature and using natural stone elements. Interior designers have embraced this trend by using natural backsplashes and stone materials. These natural elements are elevated all the way to the ceiling and are even featured on drawers and hood vent covers.
4. Hoodless Kitchens
Speaking of hooded vents, some homeowners are doing away with them altogether. The new trend is to have no hood in your kitchen. The hidden or hoodless kitchen has become perhaps the biggest trend of the year in Hawaii. Homeowners who are embracing this modern and minimalist look might use an alternate component like downdraft ventilation.
5. Appliance Cabinets for Clutter-Free Counters
Marie Kondo is the queen of organization. Her hit Netflix series "Tidying Up with Marie Kondo" has influenced the way that homeowners style their kitchens. Appliance cabinets are all the rage now, as people want to remove the clutter from their kitchen countertops and not have anything showing, not even coffeemakers.
6. Smart Kitchen Appliances
Devices, like smartphones, keep getting smarter. And kitchens aren't being left out of this trend. Smart appliances will continue to be on the rise this year. For example, Samsung's Family Hub refrigerator comes with interior cameras, touch screen capabilities, and Wi-Fi connectivity so you can search recipes online. And whenever you're at the store, you can look inside your refrigerator on your smartphone. This is one fridge that will make you shop smarter.
Summary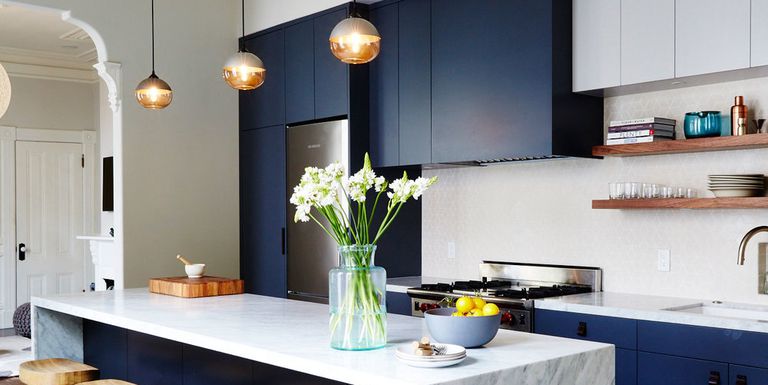 Article Name
Top Kitchen Design Trends in Honolulu for 2019
Description
If you're planning a kitchen remodel, or just looking for inspiration, here are six of the biggest Honolulu kitchen design trends that are happening in 2019.
Author
Dumore Construction & Remodeling